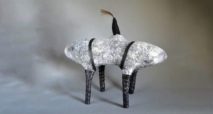 Renata Britez is a multidisciplinary emerging Canadian artist, originally from Brazil, who is currently based in Fredericton, NB. In 2020, she completed a degree in the NBCCD Textile Design Program and first brought her work to the Andrew & Laura McCain Art Gallery at Small Works 2018.
Naturalis demonstrates the diversity of her practice, her commitment to traditional techniques, ethics and sustainability in her production of materials as well as her artistic interest in working in both two and three dimensions. Subtle stories of her journeys in both art and life are paralleled in the mythic journeys and states she evokes though her sculptures and wearable art. Mothers, daughters, strife, survival, and conquest hint at the personal journey the artist embarked upon when she moved to Canada in 2014.
Persephone, a stylish garment of felted silk and wool, dyed the passionate red of Brazilwood, presents a sculpted and embroidered garden. Presented in a wearable form thick enough to warm and protect while referencing a myth of seasonal renewal and a mother-daughter story of compromise and lives lived at a distance.
Marked, two wall hangings whose subtle quilting describes the topography and streets of Fredericton, are coloured by detritus the artist collected on the ground. The works are re-presented acts of discovery, investigation and agency while making the reality of one's choices "leaving its mark" tangible.
Marks and the act of mark making is evident throughout the art in the exhibition as is the colour palette, derived as it is from the actual colours of New Brunswick. Renata's artistic training began here, and it appears that a key collaborator and muse has been the province of New Brunswick. Sourcing and creating natural dyes and paints for all that she creates, Renata starts each project literally at ground level.
Between June 14 and 26, 2021 Renata has been in Florenceville-Bristol for a residency at the River Art Centre to further her project called Maritime Colours (supported by a grant from ArtsNB). For this project Renata is researching, cataloging, and mapping pigments from plants and minerals found in the Atlantic Provinces of Canada. Supported by the New Brunswick Arts Board and the Andrew & Laura McCain Art Gallery Artist in Residence Programme, she is working on a series of paintings using natural pigments that are foraged and processed in Carleton County.
This programme is supported by the Carleton North Community Foundation.