Artist in Residence: Renata Britez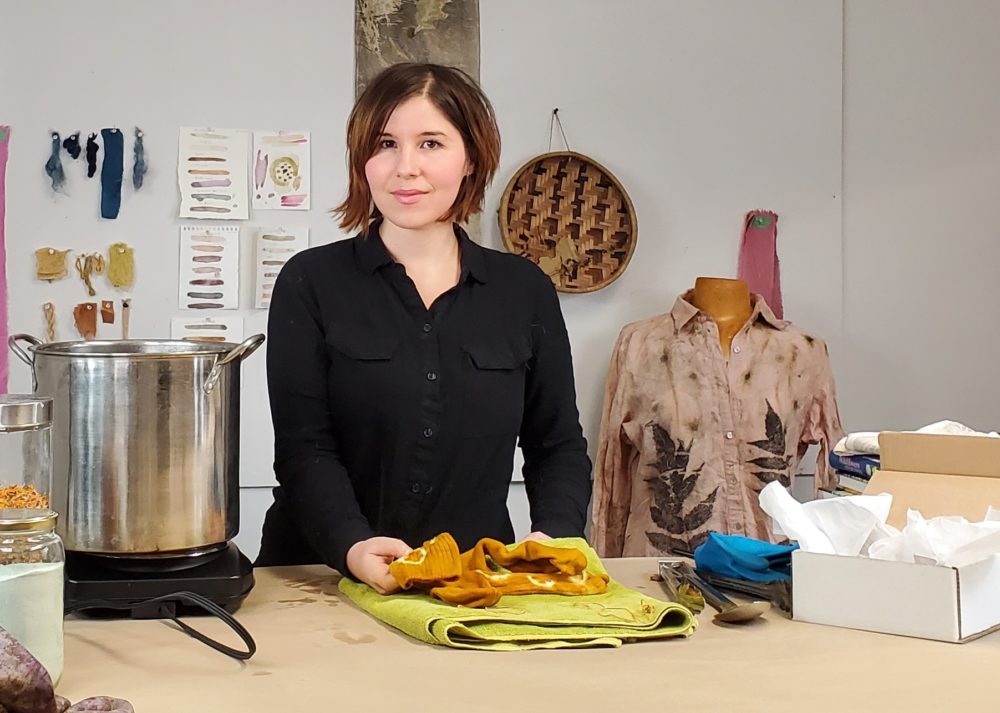 Renata Britez, Artist in Residence,
June 14-June 26, 2021
We are pleased to have an Artist in Residence again in 2021.
Renata Britez is a Multidisciplinary Artist originally from Brazil and based in Fredericton, NB. She graduated from NBCCD Textile Design Program, and She is currently taking her Masters in Education at UNB. In past years Renata has explored natural dyes techniques and tridimensional sculptures using felting techniques. Renata's work has been shown and sold across the Maritimes.
Renata travels to teach textile workshops around the Region. In the last couple of years she taught in various festivals and events including the Nova Scotia Fibre Arts Festival, Edventures, Saint John Arts Centre, NBCCD Edventures Workshop Series and ALMAG.
Renata's goal is to create artwork that provokes reflection about Human interactions with nature and the impacts they cause in each other.
Currently she is focused in the Maritime Colours project, a series of paintings using natural pigments locally foraged and processed by the artist. In this project she explores and shares traditional techniques and natural processes using biodegradable materials to create a maritime colour palette.
Renata's residency will complement her Maritime Colours project. During her residency, she will focus on collecting dye materials from the plants and minerals found in the Upper Saint John Valley region.
Learn more about Renata and her work at the following events:
Artist Talk
June 17, 6:30 pm, Andrew and Laura McCain Art Gallery
Space is limited to Covid restrictions. Call the Gallery, 392-6769, to reserve a spot.
Walkabout with the Artist
June 26, 3-4pm, Meet at the Gallery to Drive to Collecting Location
Join Renata on a plant and mineral collecting walkabout.
Space is limited. Call the Gallery, 392-6769, to reserve a spot.
And beyond the Residency…
Exhibit Opening
June 26, 2-3 pm, Andrew and Laura McCain Art Gallery
Exhibition, Naturalis, open June 24-July 15.
June 28-30, River Art Centre
9:30-11am – 7-9 years old
1-4 pm – 10-14 years old
July 31, 9am-4pm, River Art Centre